Hand taps
3 straight fluted taps = taper tap, second tap and bottoming tap (for coarse threads) or of 2 taps = taper and bottoming tap (for fine threads). Sets NP with stepped pitch diameter, taper tap No. 1 with guiding pilote.
Feature
Specification: taper tap No. 1 with one small black ring in front of the square
Second tap No. 2 with 2 small black rings in front of the square
Bottoming tap No. 3 - can be used as single tap, therefore without any ring
NP210-1

Id Number

174682

Used for
N1110-S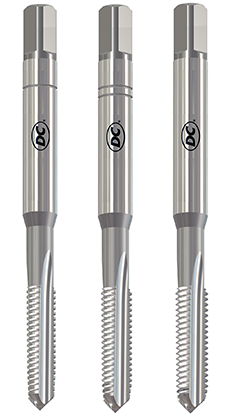 Id Number

111053

Used for
What's next?
Use our tool finder to see all the range of product
Solutions
Our crafted solutions for every problem you might face
We guarantee economy of cost and extremely consistent, fault-free manufacture.
Services & Support
Swiss quality services
We offer you more than just the creation of precision tools, we provide complete support. Accreditation, metrology, test center... we accompany you at all times.